Top 6 Reusable Swim Diapers
What Are The Best Reusable Swim Diapers?
There are a lot of swim suit diapers out there and it can be difficult to make the right choice for your bub. Some of the best reusable swim diapers on the market right now are the: 'Snap Reusable Absorbent Swimsuit Diaper by i play Green Sprouts Baby Clothing Diaper', 'Nageuret Reusable Adjustable Swim Diaper' by Beau and Belle Littles and 'Reusable Adjustable Swim Diaper by Alvababy'.
These are some of the best because they are convenient, fit well and have cute designs.
How Do You Use Reusable Swim Diapers?
A reusable swim diaper is made up of two main parts, an outer layer of waterproof PUL fabric and an inner layer of mesh. The mesh layer catches any solids and the waterproof PUL prevents the solids from escaping. Once soiled, you simply flush the solids down the toilet, give the swim diaper a rinse and then wash it in a washing machine.
Do Swim Diapers Hold Urine?
Swim diapers do not hold urine because unlike regular diapers, they are not absorbent. An absorbent layer in a swim diaper would expand in the water and render itself ineffective. The diaper could also slide off as it would get heavy. Swim diapers only hold solid waste so it is best to change your baby into the diaper right before you go swimming to avoid a mess while you travel and have a regular diaper ready to change your bub into when they get out.
Do They Make Swim Diapers For Newborns?
Unfortunately, due to the nature of a newborn baby's liquidy poop, they can't use swim diapers yet as the waste would leak through the diaper's mesh layer. This also goes for babies with diarrhea. Babies should really not be swimming in a pool until their waste is solid as it can cause the water to contaminate.
So, which is the right reusable swimming diaper for your little one?  We've listed the top 6 reusable swim diapers to help you make the best choice for your baby.  Check out our reviews below.
i play Reusable Swim Diapers
Snap Reusable Absorbent Swimsuit Diaper by i play Green Sprouts Baby Clothing
i play.® reusable and adjustable swimming diapers are a great product.  They use a patented three-layer design in the manufacture of their swimming diapers for babies and toddlers, including a wicking liner; an inner absorbent layer; and a waterproof outer layer.  Being one of the original manufacturers of reusable swim diapers, you'd expect i play know what they're talking about – and they do!  Their swimming diapers are super comfy, snug-fitting, and secure, which helps keep your baby's "accidents" in the diaper and not the pool.  
Likes:
Trim, lightweight cloth diaper encourages swimming
Easy-lock snaps
Snug and secure fit helps to keep solid matter in the diaper and not the pool
Economical & eco-friendly—use & reuse
Materials: Knitted polyester shell; Polyester lining
Dislikes:
Peeling down soiled nappy can create a mess

Diaper may be being smaller than advertised
Beau and Belle Littles Reusable Swim Diapers
Nageuret Reusable Adjustable Swim Diaper by Beau and Belle Littles
Beau and Belle Littles reusable and adjustable swim diaper is a great choice for your baby and a winner with 90 % of parents. 
What makes it such a great choice is not only that it's reusable but it's also adjustable, making a perfect fit for your baby every time.
The Nageuret reusable cloth swim diapers are one of the best organic diapers designed for families who require premium, elite-level products. It is adjustable from 8 to 36 lbs and fully washable.  The height, waist and legs areas all contain adjustable snaps to give your baby a perfect fit every time!!
Likes:
Waterproof, adjustable, reusable swim diapers that fit any infant between 6-35 lbs (3-16kg); waist 7.75in.-19.5in (20cm-50cm), legs 5.5in-10in. (14cm-26cm)
Unique design helps to keep solids in the swimming diaper, not the pool
One-size swim diaper with adjustable snaps 
Outer lining is waterproof and made from 100% PUL polyester
Internal Polyester mesh is super comfy and designed for easy washing
Unisex patterns are stylish and very cute
No risk money back guarantee
Dislikes:
May not be ideal for larger babies
Alvababy Reusable Swim Diapers
Reusable Adjustable Swim Diaper by Alvababy
This adjustable baby swimming diaper is a great product.  It's perfect for your active baby and is fully adjustable as your baby grows into a toddler – perfect for the active babies and toddlers too!
They are made using 100% waterproof PUL outer layer.  The waist and leg openings are secured using gentle, stretchy elastic with soft lycra bindings which hold this adjustable, reusable swim diaper securely in place and make it very easy to put on and take off.   It has effective sun protection, while staying soft and comfy on your baby's skin.  Their trim design makes for a great fit, plus they're super-attractive.
Likes:
Reusable

1-year guarantee

Elastic, Lycra around waist, legs give a snug fit

Waterproof PUL layer, polyester inner layer

Fits most babies

Easy to use
Dislikes:
May not be ideal for larger babies
Wegreeco Reusable Swim Diapers
Reusable Adjustable Swim Diaper by Wegreeco
Wegreeco's reusable and adjustable baby swimming diapers are a great choice for parents everywhere.  The outer layer is made using 200% waterproof PUL polyester, while the inner layer is super soft and comfy mesh, which makes clean-ups easy.
These amazing and super cute swim diapers are not only reusable but completely adjustable to suit babies from newborns up to 3-year-olds, and there are 3 per pack – what a bargain!!
Likes:
Great for little babies.
Affordable.
Adjustable.
Snaps at sides.
Dislikes:
May not be ideal for larger babies.
Only a few patterns available.
No moisture wicking lining.
Babygoal Reusable Swim Diapers
Reusable Adjustable Swim Diaper by Babygoal
Babygoal reusable swim nappies are manufactured using premium-quality materials, and perfect for your baby boy or baby girl. This is a one-size fits all swim diapers thanks to its adjustable S, M or L size feature.
Just snap it closed using the adjustable snaps on the diaper.  This is a washable, reusable swim diaper with an outer waterproof and breathable polyester layer.
Its inner polyester mesh is not only easy to clean, but also comfortable for baby's sensitive skin. The nappy can be safely washed in the washing machine, and it also dries quickly. The easily removable, and soft lycra leg bindings and elastics at leg openings and waist, give a secure fit.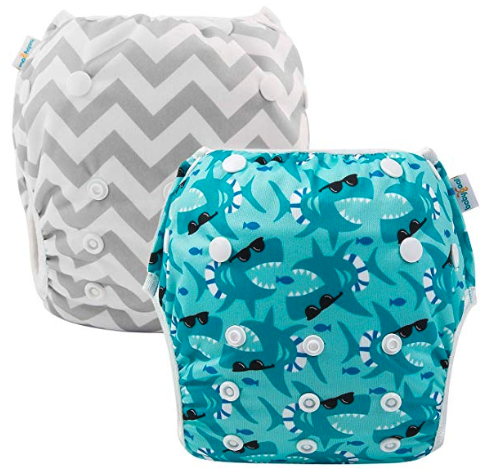 Likes:
A reusable, waterproof swimsuit that is washing machine safe

Has an outer waterproof polyester layer, are BPA, Latex, Phthalate free

100% money back guarantee or replacement in a year if unsatisfied

Ideal for both boys and girls

Practically grows with your baby with its size adjustability features
Dislikes:
May not be ideal for larger babies
Lil Helper Reusable Swim Diapers
Reusable, Adjustable and Washable Swim Diaper by Lil Helper
These fantastic unisex reusable swim diapers from Lil Helper are one size fits all, from  10 to  40 lbs.  They are completely washable, so you won't need to order disposable swimming diapers every again!  Just like regular swimsuits, you just wash and go, over and over and over again! 
Their design is snug-fitting to prevent any pool accidents, yet super comfy on your baby's delicate skin.
With very cute designs, they are stylish enough to wear without a swimsuit or under one – whatever is your preference.  
Likes:
Adjustable – one size fits all

Reusable

Charcoal colored mesh liner prevents stains

Great for pool or beach

Fun designs
Dislikes:
May not be ideal for larger babies
If you buy an item via links on this page, we may earn a commission which helps us to maintain our website.   However, our editorial content is not influenced by commissions and remains free to our loyal visitors.  Read full disclosure.