Diapers are something that every parent comes in contact with for their baby, but not everything that is available online can be considered safe. Most of the People using diapers have no idea that the diaper they are using is really  safe for their baby or is it full of toxic and harmful chemicals that can cause severe effects to baby's skin.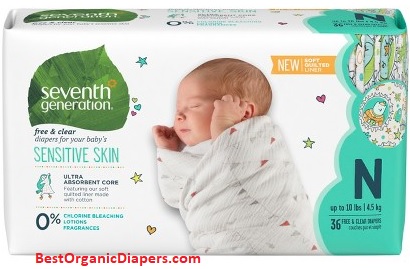 Some of the harmful chemicals used in common diapers are:
1-Artificial fragrances
2-Inks
3-Dyes
4-Phthalates
5-Chlorine bleaching
6-Heavy Metal
7-Allergens
8-VOCs (volatile organic compounds)
Many dermatologists and health professionals agreed that these compounds are hazardous for baby's skin and, can cause severe type of allergic infections, problems in reproductive organs and rashes on baby's sensitive skin.
To find a flawless diaper is a very difficult task, but seventh generation diapers are quite close to perfection in this regard. Now question is, why should we choose seventh generation diapers above all diapers available in market?
Health and Safety:
Seventh generation diapers are 100% made up of natural ingredients and doesn't contain any harmful chemicals which can later on cause any reaction to skin. Company which is making seventh generation diapers use few of necessary chemicals in manufacturing process which are even non-toxic and safe. Most of the diaper companies don't list their ingredients used during manufacturing, but company which manufactures seventh generation diapers lists all their ingredients so that customer can easily know that is this product is harmful for baby's skin or not. Thus, seventh generation diapers are healthy and safe for baby in all aspects.
Absorption:
Seventh generation diapers has excellent absorption capability and can hold a big load, this thing make parents worry free. Absorption is most important feature of any diaper in a market as any moisture on the baby's skin can cause too much irritation. Seventh generation diapers works more good at night because they can absorb repeated wetting and doesn't leak but absorbs all liquid.
Leakage:
Every diaper's primary and main purpose is to absorb more and more liquid and prevent the diaper from leaking. Seventh generation diaper is good enough in fulfilling this task. Every person has its own view and experiences, so many people also complain about leaking of this diaper especially at night time. But overall, seventh generation diapers are leak proof.
Comfort:
These diapers are very stretchy and soft. Inner liner and back fabric of these diapers are very soft. Due to softness of fabric, it causes no roughness and it is also skin-friendly due to soft material used in it. Baby can easily move here and there without any irritation or itching. Its fitness is functional which is very good for babies who are super active. They makes sure that straps don't suddenly open and properly closed and will not open up.
Size:
Seventh generation diapers come in 6 sizes, and their size panels are flexible that can be pulled comfortably.
| | | | | | | |
| --- | --- | --- | --- | --- | --- | --- |
| Size |          1 |           2 |         3 |          4 |           5 |          6 |
| Weight |     3-10 lbs |    6-12 lbs |     8-19 lbs |    14-39 lbs |    23-54 lbs |   32-54 lbs |
| No.of diapers per bag |         29 |          31 |        34 |         30 |         26 |         21 |
| No. of bags per case |         6 |          6 |          6 |          6 |          6 |           6 |
Environmental Friendly:
Seventh generation diapers are very environmental-friendly. The best thing in these diapers is that they are made up of natural ingredients and without toxic materials. These diapers have a positive impact on environment. They can be partially degraded after use which makes them more eco-friendly.
Versatility:
The first impression of these diapers is not good, because they look little bulky, but they fit perfectly. The reason for them looking very big is their back high sheet which increases total length of diaper. But still they look normal underneath. Due to its soft material, baby clothes slide over them quickly. Actually this higher back is perfect for preventing leaks.
Durability:
This diaper is not too much durable, but it doesn't matter as the baby is not going to spend a very long period in single diaper. Obviously, parents keep changing diapers. Too many complaints have surfaced online by online reviewers of diapers falling apart. Overall, diapers have medium durability so, don't worry about that.
Maneuverability:
Every child wants freedom of moment and it is very necessary for strong legs when the child is learning to crawl or walk. These diapers are very stretchy, so they fit the baby very well and no matter how active the baby is, they can be super helpful to provide them support and comfort.
Pros:
1-Babies having sensitive skin can wear them without any problem or issue.
2-Babies can wear them from infancy to their toddler years.
3-They are thin and not bulky, which makes them breathable.
4-Seventh generation diapers got many international certifications.
Cons:
1-Hard to find in local stores, that is why they can be easily bought online.
2-Their thin material raises concerns whether it can handle big poop or not.
3-They are very costly as compared to other diapers.
4-They are not 100% leak proof.
Conclusion:
Overall seventh generation diapers are very good. They are super absorbent, leaking proof etc and other too many benefits. The only drawback of these diapers is that they are very costly. This diaper is especially best for infants.